Minnesota CNC shop uses Heimatec speed increaser to up RPM and feed rate; significantly reduces cycle time on aluminum engraving application
Kurt Machining (Minneapolis, Minnesota) specializes in providing precision CNC machined parts, using state-of-the-art technologies and up to 5-axis machining. Since 1952, this 110,000 sq. ft. shop has provided its customers in a variety of high-quality demand markets with components and welded assemblies. These include aerospace, defense, semiconductor, energy, automotive and more.  A very flexible shop, Kurt produces parts ranging from micron-sized semiconductor components to 2000 lb. workpieces for the defense sector.
On a recent project, where 5000 pieces of 6060 aluminum were to be engraved on a Hwacheon horizontal turning center, Kurt Engineering Manager, Shawn Eisenshank, had concerns over the cycle times. He turned to his local tooling distributor, Abrasive Specialists, Inc. (ASI) and their tooling partner, Platinum Tooling, for suggestions. Leigh Kinnan of ASI worked with the local Platinum Tooling representative, Cody Papenfus, to test run a Heimatec speed increaser, with the goal of increasing RPM on the machine and decrease part cycle time, with a documentation of the potential savings. After performing the calculations in consultation with Preben Hansen, president of Platinum Tooling and exclusive importer for Heimatec products in North America, it was determined a significant savings could be realized.
Detailing the application, ASI demonstrated that a 1:3 speeder, increased the spindle RPM enough that when coupled with the nearly 3X increase in the feed rate on the machine, would produce a significant improvement to the current machining cycle. Calculating the reduction in machining cost per part and factoring the cost of the speed increaser, it was determined the use of the Heimatec product onboard the Hwacheon turning center would result in a 9X cost saving for the customer, in the first year's production run on this engraved aluminum component.
As Shawn Eisenshank notes, "This is one of those classic scenarios, where the theoretical has proven out in practice, as we've seen exactly the results ASI and Platinum Tooling proposed in their test calculations."
Cody Papenfus of Hexis in Plymouth, Minnesota, who is the area rep for Platinum Tooling adds, "We say we put our expertise to work at the spindle of the machine and, in this case, that's exactly what happened. The speed increaser performed as expected, the customer got the results promised and it was a win-win, for all. We serve our customers for the long haul and successes like this one are the big reason."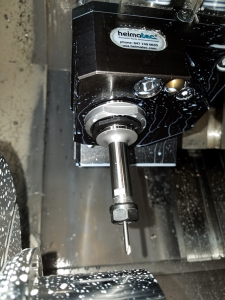 Kurt Machining performs both vertical and horizontal milling and turning, complex assemblies and weldments, delivering with rapid lead times. CAD compatibility is offered for web-based communications and fully interactive manufacturing engagement for its customers. The company performs contract manufacturing in high quantity as well as prototyping for new designs. Kurt also performs impact extrusion, heat treating and cleanroom operations including ultrasonic cleaning of stainless steel and aluminum components and assemblies, with cleaning to Class 1000 with 100 protocol. The company is ISO 9001:2015 and AS9100D plus NADCAP Certified. Kurt Machining is quality certified by the U.S. Government to MIL-Q-9858 and MIL-I-45208.