Designed for Superior Performance
Heimatec's standard and custom Angle Heads for machining centers are designed and manufactured to handle the most difficult applications. Hence they are ideal for heavy milling operations and complement current machine capabilities. Furthermore accuracy, performance and productivity are maximized by performing vertical, horizontal, and angular operations without repositioning the workpiece.
Angle Heads are equipped with the u-tec® tool changing system, in addition are rotatable through 360° and compatible with industry standard machining centers.
Powerful, accurate, and rigid
Applications include milling, drilling, and tapping
Torque rating up to 150 Nm
Up to 1:4 gear ratio available
Spindle speeds up to 24,000 rpm
360º body rotation
Interchangeable torque arms
Compatible with most automatic tool changers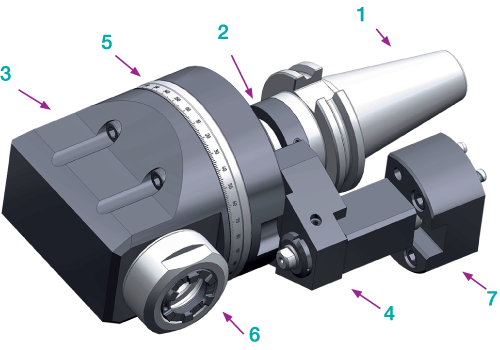 1. Machine adaption
ANSI B 5.50/ CAT
MAS 403 BT
DIN 69893 – HSK
DIN 69871 A – SK
2. Arrestor ring
Locks the tool drive taper
3. Housing
45/90° angle possibilities,
depending on the required use
4. Torque arm
For locking the housing of the angle head on the machining spindle to prevent rotation
5. Scale ring
For aligning the working angle
6. Output
The standard output is ER collets
7. Stop block
For locking and preventing the rotation of the angle head. Custom block can be manufactured to machine specification.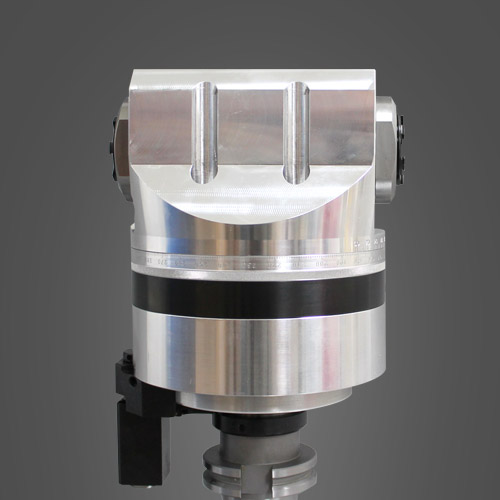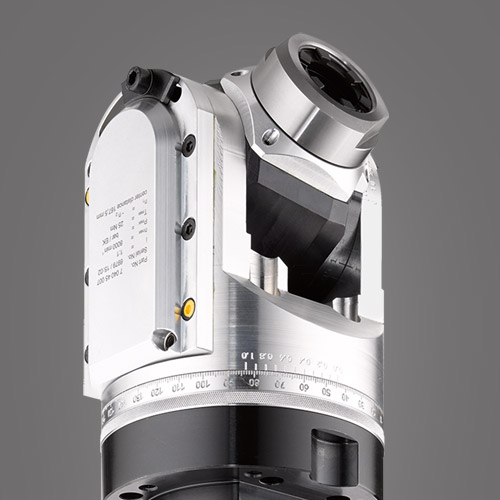 Angle Heads: standard
For machining applications without clearance issues

Angle Heads: dual output
For machining applications without clearance issues and 2 directions

Angle Heads: standard offset
For machining applications without clearance issues

Angle Heads: offset slim
Offset style to maximize the usable tool length plus slim design for machining in restricted spaces
Angle Heads: ± 90° adjustable
For machining tasks at compound angles